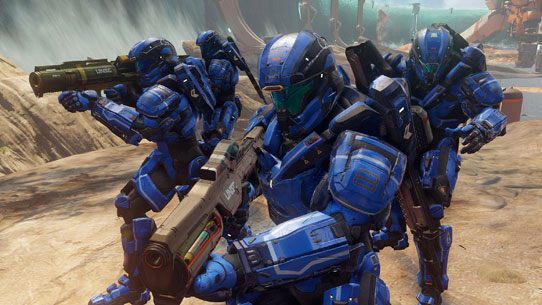 Halo 5: Guardians could come to PC! As reported by Gamesradar and dissected by Gamespot, Halo Franchise Director Frank O'Connor answered the question that many gamers were curious about – will Halo ever come to PC again? Well, you may be in luck as Mr. O'Connor seems to think that it is possible, and wouldn't be hard to do. 
"Microsoft has made a huge commitment to normalise the Windows experience across multiple platforms, so you're seeing elements of Windows 10 are going to appear on the Xbox and Cortana and stuff like that, There is plenty of chance that Halo 5 could appear on the PC." he replied."

"There's nothing new to announce at this point, but it's absolutely not out of the bounds of reason, and we developed the game on an Intel platform, so it wouldn't be the hardest thing in the world to move it to PC and take advantage of PC stuff."
Mr. O'Connor basically confirmed that they have thought about it, and that it would meet Microsoft's objective to merge the Xbox and PC gaming markets. I know personally that I preferred Halo 2 on the PC, and many others preferred Halo: Combat Evolved on PC as well. I would be very excited to see Halo reach more audiences, and PC is the perfect platform to do so. Maybe even cross-play or cross-buy between Xbox and PC… that would be a home-run, Halo and Microsoft. Do the right thing.
Have you seen our other pages? Check them out! We have all of our content spread across a variety of media. Check us out, we'd really appreciate it!
---
---