Halo: New Blood Book Review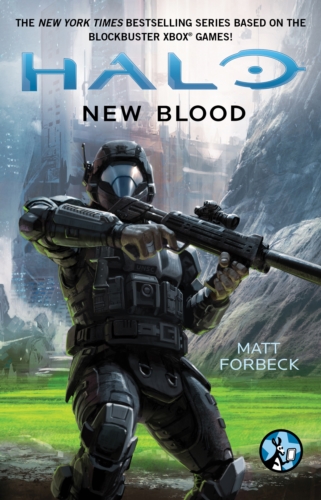 Halo: New Blood is a fantastic novel that serves as a formidable prelude to Halo 5: Guardians. Written by Matt Forbeck, it tells the story of Buck and his squad of ODSTs (as well as Dare from ONI) and what transpired in New Mombasa, after New Mombasa and the Covenant war, and also how Buck and his squad of ODSTs all became Spartan 4s. Not only that, it re-introduces JUN, a Spartan III that fought on Reach that we saw in Halo: Reach, who escaped and is now a part of the
recruiting program for Spartan IVs.
I will not spoil any major plot points, but I will briefly go over some of my favourite things about this book and why I recommend it to anyone who wants to get their Halo fix before Halo 5 comes out.
Right away, the tone of this book makes itself very clear. It is all told from the perspective of Buck, who is on Fireteam Osiris in Halo 5, and is the Gunnery Sergeant (a.k.a., why they call him 'Gunny') in Halo 3: ODST. The entire story is told in a 'campfire' kind of way where it is descriptive, but still entertaining and has a casual undertone even in very serious content. You feel as he is talking directly to you, the reader, not just words on a page like so many other books feel like.
Also, the story of how his squad all becomes Spartan IVs is very interesting and sets up the backstory for Buck in Halo 5 very well. You learn about the processes of how they become a Spartan IV, you learn about the relationship between Buck and Dare as well as ONI, and most importantly you learn about what happened to The Rookie (the playable main character in Halo 3: ODST). Romeo, Dutch, and Mickey are also along for the ride, but Dutch only partially so as he retired after the Covenant war. The interesting and entertaining dynamic between Buck, Mickey, and Romeo is still very much there and carries over nicely from ODST, and it serves to play an important role in the overall story of New Blood. Learning what happened to JUN is also very important – I can't help but feel that he will be an important character in Halo 5: Guardians.
The book itself is only about 200 pages, so it is a quick read but one I would highly recommend. I got it for $5 on the Google Play store as an e-book and I will likely be revisiting this book at some point in the near future.
If I had to give it a review score, I would give it a 4 out of 5 stars, with my only real gripe with it being a sizable portion of the book being dedicated to the events in New Mombasa, the same events that you would already know a lot about if you played Halo 3: ODST. It isn't bad, but it takes up space in an already short book.
Stay tuned for more content and more book reviews!
Have you seen our other pages? Check them out! We have all of our content spread across a variety of media. Check us out, we'd really appreciate it!
---
---